shake up your dinner routine
These sweet and sticky air fryer chicken wings will be a family favourite!
We always get asked at markets what to use jam on! We're trying so hard to get people out of the mindset that jam can only be used on toast. Jam is so versatile! It can be used in baking, in smoothies, on charcuterie boards, and in this case it makes a tasty glaze for these air fryer chicken wings!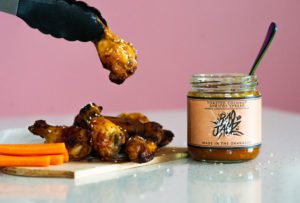 Ingredients:
2 dozen frozen chicken wings
2 tablespoons of Rad Jamz Toasted Coconut Apricot Spread or Rad Jamz Peachy Caramel Spread
1 tablespoon honey
1 table spoon minced garlic
1 teaspoon ground ginger
1 teaspoon apple cider vinegar
1 teaspoon lemon juice
salt & pepper to taste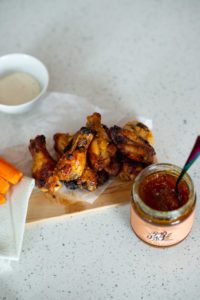 Directions:
Using your air fryer, pre-cook chicken wings for 25 minutes. While your chicken wings are cooking, combine all other ingredients in a bowl.
After 25 minutes, take chicken out of the air fryer and toss in sauce. Cook for an additional 10-15 minutes. You don't want to burn them! Make sure to check internal temperature with a thermometer to ensure a temperature of 165 degrees F.
I like to toss mine with sesame seeds and green onions.
Enjoy!