We love spooky season!
We love halloween and we love brie! If you've followed us for a while then you know how much brie we eat in this household!
Impress your guests with the spooky baked brie. It super simple and delicious. It uses one of our favourite BC made spreads, Raspberry Balsamic! If you're looking for an awesome local gift idea for Christmas coming up  we've got this fan favourite in our jam gift box!

INGREDIENTS
One wheel of your favourite brie
1 sheet of thawed puff pastry dough
1 tbsp melted butter
1-2 tablespoons of a red Rad Jamz flavour. We used Raspberry Balsamic! (buy it here)
Crackers and other preferred accompaniements

INSTRUCTIONS
Preheat oven to 350 degrees
Cut your wheel of brie in to the shape of a skull
spread your Rad Jamz of choice over the top surface of the brie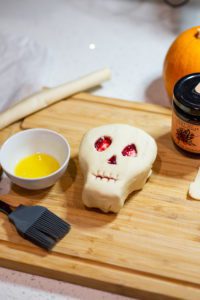 Lay the puff pastry flat over the brie. Use your hands or an instrument to shape it around the brie
use a sharp knife to cut out eyes, nose, and a mouth pattern
brush melted butter over the puff pastry
bake for 15-20 mins, checking throughout
Serve warm with crackers!