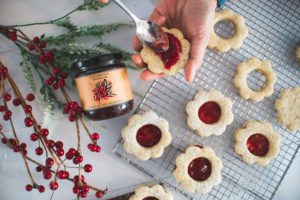 INGREDIENTS
2 1/2

cups

flour

1 1/2

cup

Confectioners sugar

1/2

cup

butter

1 stick

2

eggs

1

tsp

vanilla

1⁄4

tsp

salt

2

cups

slivered almonds

finely ground

1

cup

Strawberry Rhubarb Rad Jamz (buy it here)
INSTRUCTIONS
In a mixing bowl, beat butter and confectioners sugar. Mix in eggs, vanilla, and salt until combined.
Using a blender, finely grind slivered almonds and add to butter mixture.
Add flour and mix until thoroughly combined.
Divide dough into 2 discs and wrap in plastic. Place in refrigerator until firm, approximately 4 hours or overnight
Roll dough. Using medium size and mini size cookie cutters, snowflakes for example. Cut out 2 medium size snowflake cookies.
Tip: Transfer cutouts to baking sheet before cutting out the center and make sure to dip cutter into flour before pressing into dough.
One cookie will be the base for the linzer sandwich. The other cookie will have the center cutout.
Use one mini cutter, snowflakes for example, and cuttout 1 center. Repeat this, creating sandwich sets with a variety of cookie cutters.
Place the mini cutouts on a separate baking sheet as they will bake faster.
Bake at 350° for 8-10 minutes. Set cookies on a wire rack to cool.
Spread jam on each cookie base.
Set all the top cookies on a sheet and dust evenly with confectioners sugar.
Place tops onto preserve covered bases. These are your linzer sandwich cookies.
Store in a air tight container for up to a week. If they last that long!